A doctor uses medical charting software to plot trends in classic Hindi film songs. ♦
Originally published on VICE India.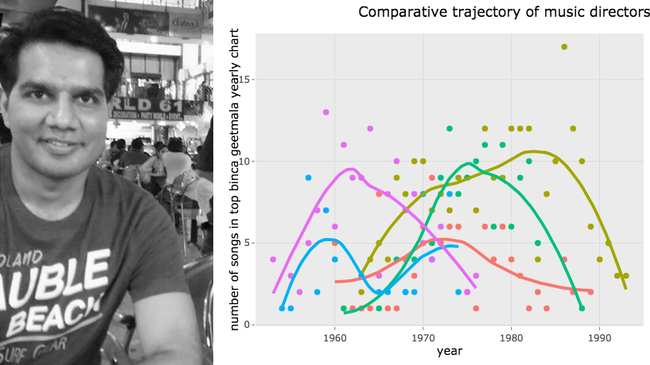 Anupam Kumar Singh, 35, works in the cardiology department of Hindu Rao Hospital in Delhi. Originally from Bihar, Singh told me he didn't always plan on being a doctor. "I wanted to grow up to watch movies," he said. Growing up in a village, with a theatre some distance away, "I associated movies with freedom."
Singh would overhear his parents listen to Binaca Geetmala, the iconic weekly countdown show, which ran on Radio Ceylon and All India Radio from 1952 to 1994. Hosted by Ameen Sayani and named for a toothpaste brand, the show "reflected popular taste"—as Singh mentioned in a tweet yesterday.
Singh followed this up with a thread of charts—created the same way he usually plots medical data—of Hindi music trends as recorded by the Geetmala countdowns.
"The data from the Geetmala charts is all over the internet," Singh told me over the phone. Besides Hindi music, his hobbies include coding, and "about one year back I scrubbed the data from the internet in about one or two hours," he said. "At first I just made it into a fun chart to impress my parents."
The other day, finding himself with a little downtime, Singh started graphing the data and posting it on Twitter, which he mainly uses for more academic purposes.
Singh made interactive charts, tracing the career arcs of singers Lata Mangeshkar, Asha Bhosle, Mohammed Rafi, and Kishore Kumar. Check out his comparative chart of singers:
A comparative trajectory of singers.
Rafi ruled in 60's. kishore in 70's n 80's,asha in 80's. while lata continued to rule 60s to 80s
Kishore kumar initially used to sing only for himself n Dev anand later that changed after aradhna when he became a superstar pic.twitter.com/7vas25JPRb

— Anupam Singh (@anupampom) June 5, 2018
Singh's favourite composer is RD Burman, whose songs he fell in love with while in medical college. "I was born in the 80s, so I used to listen to really loud shouting stuff, 'Jumma Chumma De De', Amitabh Bachchan… But when you grow up, your tastes change," Singh said. He charted RD Burman's career as well:
An interactive plot of RDBurmans songs n career by years's .https://t.co/b7S6RuJWyD

1. RDB's career had long latency,(very unusual)between 1961-1967 he also ghost composed many of his dad's SD burman's songs namely guide and teen deviyan.
2.His fall was swift post mid eighties pic.twitter.com/xpBrjNPlqy

— Anupam Singh (@anupampom) June 5, 2018
"A rank on the chart doesn't always predict the longevity of a composer or singer," Singh said. "But you can see some, like RD Burman have grown over time. Javed Akhtar once said, 'Time is kind to great people' and I really believe that."
Singh plotted lyricists:
Lets plot the lyricists now..
1. Anand Bakshi,Majrooh (50s to 90s)reigned for long
2. gulzar was pretty eclectic in songs he did.
3. Hasrat jaipur,shailendra were important figures often in combination with shankar jaikishen pic.twitter.com/wAQBrLCRpg

— Anupam Singh (@anupampom) June 5, 2018
Music directors:
A comparative trajectory of top music directors from 1950s to 1980shttps://t.co/YOQaYxRJK1 pic.twitter.com/wOyT67FNGx

— Anupam Singh (@anupampom) June 5, 2018
And even collaborations, to discover facts like RD Burman songs fared better with Lata Mangeshkar than with Asha Bhosle:
Most common "popular collaborations as per binaca charts. Observations-
1. Lata and her boys "Laxmipyare" are far ahead
2. RDB had greater hits with lata than Asha
3. Burmans loved kishoreda pic.twitter.com/HOML8kusNJ

— Anupam Singh (@anupampom) June 5, 2018
There are some more poetic charts, like this wordcloud on common words in songs:
Let's plot word cloud(shabdmegha)..which words are most commonly used in title of songs ..
1. have eliminated pronouns(mera/tera/tum and some other common words like ka/ki/hai etc)
2. we see words like dil/pyaar/yaad/chaand feature commonly pic.twitter.com/cMHLEjDRvL

— Anupam Singh (@anupampom) June 5, 2018
And some truly nerdy ones, like these slopegraphs:
Let's plot informative tufte style slopegraphs..which explore musician singer collaboration over years for top singers- lata,rafi,asha n kishore pic.twitter.com/T8S1ZDKInw

— Anupam Singh (@anupampom) June 5, 2018
There's are network analyses pre- and post-RD Burman:
Lets do network analysis of singer/music director network till 1970(when RD Burman arrived and changed the sound of music)..

the bigger dots have high centrality (similar to way google ranks pages)

it is clear lata,rafi and shankar jaikishan ruled.. pic.twitter.com/dkK2IVjutc

— Anupam Singh (@anupampom) June 5, 2018
Lets plot network from 1971-1993.. Here we see RD burman,laxmi kant pyarelal lata mageshkar,asha bhosle,rajesh roshan achieving prominence.. pic.twitter.com/Df0DuYJvzl

— Anupam Singh (@anupampom) June 5, 2018
Actors with the highest number of hit songs, the most successful Hindi movie albums by year, and successful combos: of successful directors and lyrcists and actors and singers also feature.
Most successful hindi movie albums by year(1954-1993)
interactive graphic here–https://t.co/AV4C1WGSB2 pic.twitter.com/my5W0wsmtt

— Anupam Singh (@anupampom) June 6, 2018
You can see the whole thread here.
The entire Geetmala show now has a new lease of life on Saregama's Carvaan music player. "There are big Google groups of oldies, settled in the US and other places who get really into these fights about music," Singh told me. "It's not that these trends are unknown, but to see them visually—the data and visual aspect is what I'm bringing in."